ICT Development CO., LTD.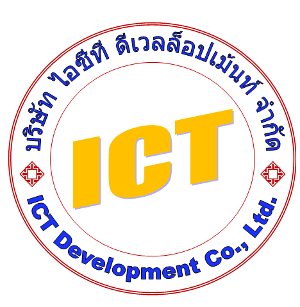 CORPORATE PROFILE
ICT Development Co., Ltd., is the subsidiary company under The ICT Group that was established since
2014 to provide a total solution of IT-related services such as World Class Payment Open Platform SOA
Architecture, Comprehensive Network/Data Center Infrastructure and Security Solutions, etc., which
covers services from System Design and Implementation, System Integration and Testing, Computer
Network Consultant and Maintenance for both Hardware and Software, etc. We're one of the leading
System Integrator in Thailand which readily equipped with comprehensive resources and expertise
encompassing all network and security solution with computing platforms and environments skills in
which customers are assured to get a highly competent yet robust computerized office solution.
Mission:
to become a leading innovation of information technology service provider for Business
Enterprise.
Market Focus:
Financial & Banking Sector: to provide e-payment total solution such as Total Payment
Infrastructure, Total Transformation Engine Solution "Synchrony Accounting Integration",
Managed File Transfer (MFT) & B2B Gateway, System Design and Implementation, System
Integration and Testing, After-sales service support, etc.
Telecommunications Sector: to provide enterprise network infrastructure and information
technology solutions. To ensure clients having the high performance network infrastructure
with scalability and expandability in the future.
Government & Business Enterprise Sector: to provide a total solution IT-business related
to support government and education organizations by applying the modern technologies to
the system.
Military & Defence Sector: to provide as a turn-key services related to air surveillance
radar, defence system, interception, etc.
Foundation:
6 th Nov 2014
Executives:
Mr.Chaiyaporn Nutchraksa, President & CEO
Mrs.Pongsri Nutchraksa, Chief Operation Officer
Ms.Pornthida Pinthong, Director of Finance
Mr.Piyawit Nutchraksa, VP of Commercial & State Enterprise
Ms.Warinthorn Sriboonyathitichai, VP of Enterprise Soulution
Mr.James Nel Peres, VP of General Affairs and Support
ICT Development Co., Ltd. offers the most complete range of cutting-edge Information Technology
solution for both private and public sectors. We are confident that through our comprehensive
expertise and services will help you to enhance your business strategy to satisfy your most demanding
requirements, and ultimately culminating your business purposes.
Service and Support:
ICT Development Co., Ltd., is proudly to present and offer our high caliber engineer team to
represents as the Post-sales to support in order to reinforce customer in achieving ultimate objectives.
Help Desk / Hot Line Services
Office Time: 8.30 a.m. – 17.30 p.m. at Tel: 662-102-3546
Mobile (7 x 24 hrs) at Tel: 6695-721-0538
Fax (7 x 24 hrs) at Tel: 662-102-3547
Email :
support@ictdevelopment.co.th

Type of Services
ICT Development Co., Ltd., offers 2 types of service which are:
1. Silver Service Support: 5 x 8 x 4 hrs, Phone & On-site
2. Gold Service Support: 7 x 24 x 4 hrs, Phone & On-site